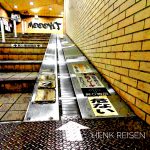 HENK REISEN are more on the funky side of electronic music with their seventh release, the album »MOOOVIT«. Moog bass lines, funk guitars, Rhodes electric piano chords and 101 synth solos meet robotic vocoders, multi channeled »aaah« choires and double tracked lead vocals by Henk. Together they celebrate rhythmic pumpin' jams reminiscing the Seventies and Eighties.
»We got to dance, dance, dance, keep on dancing …«
MOOOVIT, released Feb 10th, can be ordered via
Amazon | iTunes | Spotify | Beatport | Google Play and many other shops.
Please consider buying the album via Bandcamp, as the artists get the fairest shares from this plattform. However, if you prefer one of the other shops: go for it! ;-)