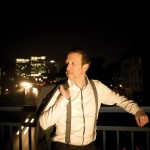 HENK REISEN stands for handmade electronic music from Essen, Germany. Henk, who is mastermind as well as footboy of the 2006 founded project, employs musical variations of electronica, downtempo, electro funk, dub techno and chill out to fulfill his artistic visions.
In terms of composition he cold-shoulders any loops, longer external samples or other pre-shaped pieces of sound. Instead he devotes his efforts to what making music is really about: creating rhythms and tunes, sounds and structures with the pure intent to express feelings and thoughts. It's that simple.
Henk, born Daniel Plonka in 1973, has been playing and composing solitary or with different bands for his lifetime. He is keyboarder with the Elvis tribute band "D.W. King & The Cosmic Crooners" and manages classical music concerts for Orchesterzentrum|NRW. He has been creating commissionary compositions for theatre plays, contemporary dance pieces, radio features, television broadcasts or web pages.
_____
"Should someone merge the movies "Drive" and "Tron" into one, it's on HENK REISEN to produce the soundtrack."
ARTE CREATIVE | Video community of french-german public tv channel | september 2014 | official twitter account
"Aside from the clubs HENK REISEN is working on the most beautiful song in the world. The new EP-album "CHANGES" features seven musical pearls in the fields of downtempo, synth-pop, lounge-jazz and folktronica, which are traversed by nostalgic organs and nonchalant drums. Resistance is futile."
BEAT magazine | Germany | febuary 2012 | print
"This music sound really relaxed and it grooves like hell."
WAZ newspaper | Germany | december 2011 | print